Why did Foreign Office Minister Nicholas Ridley hold clandestine meetings with the Argentine Junta, where trade deals, Falkland Islands sovereignty and a 99-year leaseback deal were on the table?
---
We waited 25 years to see the document below. Here, it's quite staggering to see Foreign Office Minister Nicholas Ridley's pre-conflict activity as he swanned off to the Hotel du Lac in Geneva, unseen, and behaved in a manner that clashed directly with Thatcher's subsequent wartime stance. Instead of being upfront about it, Thatcher and Ridley had colluded to secretly push for trade deals, a 99-year leaseback, and the ceding of sovereignty to Argentina, all done behind our backs.
---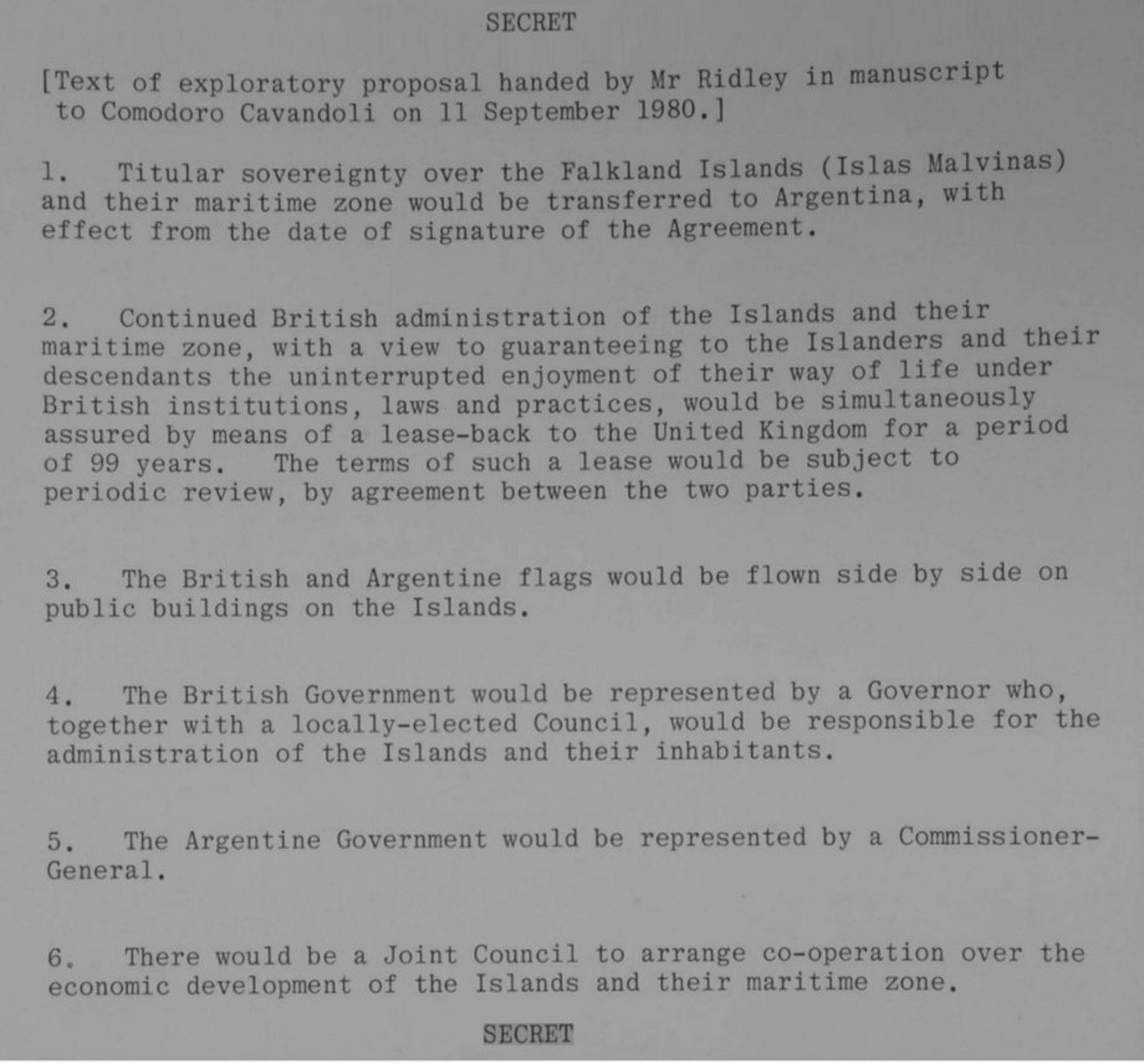 It's clear to me that the unstated cause of this conflict – concealed for 30 years – was the secret activity around ceding Falklands sovereignty, all closely linked to the future military, strategic and trade interests of Britain and Argentina. According to certain autumn 1980 secret documents, a realisation was dawning on Thatcher that sovereignty could not be passed to the military junta this time around and that the islands could not be leased back to Argentina for 99 years, as Nicholas Ridley had fervently wished. At such a crucial stage in the long-term process, why did Thatcher's priority switch to taking a sharpened axe to the UK's presence in the South Atlantic?
If an Argentine invasion was being considered, encouraged or even actively precipitated, there could never be any traceable contact in this regard between the British and Argentine governments. This would immediately indicate collusion, and would have risked discovery, betrayal, later exposure, or the collapse of the Thatcher government. There is a telling quote in the above document: "…complete secrecy was essential to both sides".
If Thatcher's hidden wish was to be re-elected to power at all costs in June 1983, she could drop heavy hints in the form of positive ongoing trade talks, the ceding of sovereignty, swingeing UK defence cuts, the removal of HMS Endurance from service, etc. to imply to Galtieri that an Argentine invasion would stand uncontested, whilst quietly factoring in the surmountable, 'acceptable' cost of a large, but unknown number of expendable servicemen's lives on both sides.
As it turned out, the defence cuts, trade talks, proposals for the ceding of sovereignty, and clandestine meetings with the Argentine government were exactly what she carried out – amid howls of protest from senior military figures. As I've referred to time and again, the full details of these were kept under wraps for 30 years.
---
Part NINE: