Anyone smell a rat here…?
The Free
Free Julian Assange 7 Oct, 2021 12:06 Get short URL
Follow RT on A man whose testimony the FBI uses to justify extraditing Julian Assange from Britain has reportedly been arrested in Iceland after police requested his detention to halt his ongoing crime spree, local media reports.  
Sigurdur_Thordarson (born 1992), commonly known as Siggi hakkari ("Siggi the Hacker"), is an Icelandic convicted criminal and FBI informant against WikiLeaks. He is known for information leaks, multiple cases of fraud and embezzlement, sexual solicitation of minors and adults.. ..https://en.wikipedia.org › wiki ›.
Sigurdur Thordarson was placed into custody in Iceland last month, the newspaper Stundin said, citing his lawyer.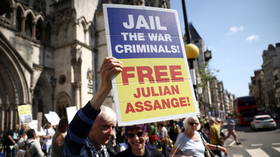 FILE PHOTO. Supporters of Julian Assange protest outside the Royal Courts of Justice in London. / Henry Nicholls
A judge agreed with the police that if Thordarson remained free, he would continue an ongoing spree of crimes in the European nation. He…
View original post 138 more words